1. Go to Tools, then Accounts
2. On the screen that comes up click on Add, and point to Mail....
3. Put Your Name in the Display Name Box, click Next
4. Enter Your Email Address in the email address box, Click Next
5. Enter your pop 3 Incoming Mail Server and Outgoing Mail SMTP server as shown in the image where "mydomain.com" = "youractualdomain.com"
6. Follow the instructions in the window, you account name must be your full email address. Click remember password, if you don't want to have to enter your password every time to check mail, click next
7. You will get a congratulations window, click finish.
8. Go back to the tools, accounts (step 1 and step 2) to get to the window where your email accounts show up, then click on the email account you just set up to select it, then click on "properties"
9. In the General tab, write over the mail.mydomail.com - and make it something you will recognize, I always just use the full email address there as shown in the window, click apply....
10. Then go to the servers page and click the very bottom box for outgoing mail server "my server requires authentication" VERY IMPORTANT. If you do not check this box, you will not be able to send email out.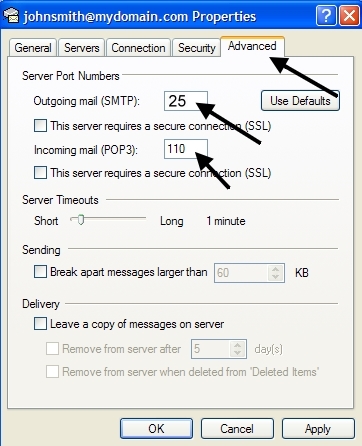 11. Go to the advanced tab and put in outgoing mail (SMTP): Box "25" if not already there, Incoming Mail (POP): should already be at "110" if not, put that in that box.

NOTE: In the event that your server blocks port 25 or you are unable to use port 25, use our secondary port 587 and place this 587 where the 25 is now in the image above, in the Outgoing Mail (SMTP): Box.

Then Click Apply:
This will take you back to your outlook express, send a test email to a friend to test it out.